POPULATION–ENVIRONMENT BALANCE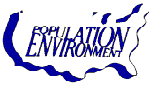 URGENT ACTION ALERT
Disease-Infected Illegals Flood Our Border — TB, Parasites, Pneumonia, Dengue et al

As another "Caravan" of Central Americans approach our Border — [and current Asylum law would de facto legalize most of them! — an estimated 100,000 in March, 2019 alone! USAToday, 3/30/19] and it is important to consider yet another Negative, in addition to Net Costs (Net Costs of Legal Immigration Study), Drug Running, Human Trafficking, Mass Migration of Legal and Illegal Immigrants brings — DISEASE.
Consider the following facts from a Judicial Watch Report issued earlier this year — "'Crisis' of Seriously Ill Migrants Slams Border Patrol—TB, Pneumonia, Influenza, Parasites"
"[T]he Border Patrol reveals that it is getting slammed daily with dozens of illegal immigrants carrying "serious illnesses." This includes tuberculosis, influenza and pneumonia....

"Federal agents are referring 50 illegal immigrants a day for urgent medical care[.] ... Authorities say 'it's unlike anything they've ever seen before.' ...There are also lots of pregnant women about to give birth. ... 'Many were ill before they departed their homes,' Customs and Border Protection (CBP) Commissioner Kevin McAleenan said.

"...[T]he Coast Guard has been deployed to help, sending medical teams to Border Patrol sectors getting bombarded with sick migrants....

"Judicial Watch has interviewed medical experts that confirm illegal immigrants do indeed pose a serious public health threat to the U.S. by bringing dangerous diseases into the country. This includes tuberculosis, dengue and Chikungunya. ... a prominent physician in a border state ...warnedthat the migrants will undoubtedly bring infectious diseases into the U.S. Among them are extremely drug resistant strands of tuberculosis and mosquito-borne diseases such as dengue and chikungunya ...."

"'Crisis' of Seriously Ill Migrants Slams Border Patrol — TB, Pneumonia, Influenza, Parasites," JudicialWatch.Org, 01/07/2019
And even the NYTimes admits "2000 Migrants on Average are crossing the Border each day ... with rotting feet, infectious diseases and fevers," (Daily Caller, 3/8/19).
And the Border Patrol recently told NPR "more arriving every day with communicable diseases, flu, mumps, impetigo and even one case of flesh-eating bacteria" (NPR, 3/25/19).
This Mass Migration/Invasion not only highlights the importance of completing a Border Wall and enacting e-Verify and ending Catch and Release (the effect of current Asylum law), but it also highlights the Importance of dramatically Reducing the Number of Legal "Slots" which would-be Legal and Illegal immigrants seek to fill. These Legal "Slots" — such as the de facto Unlimited Number of "Slots" for Asylum Seekers — are Magnets for the Illegals.
The Solution is to end the Visa Lottery, and Chain Migration and Birthright Citizenship and above all to Limit the overall Numbers via an all-categories-included Zero-Net Moratorium.
We reiterate to reduce the number of Illegals, it is essential to dramatically reduce the number of Legal "Slots" which serve as a Magnet for their coming!
So tell Congress You want
Enactment of an all-Categories-included Zero-NET MORATORIUM


(i.e., where Immigration equals Emigration, i.e., about 150,000 per year) on Legal Immigration! and


Complete funding for The Wall

An end to


Catch and Release

unlimited grants of Asylum

Chain Migration

Anchor Baby citizenship


Implementation of e-Verify.
BALANCE has documented the toll that Mass Migration takes on the Environment (Pressure Intensifying to Migrate to the US) , including the loss of one acre of farmland or natural habitat for every person added to the U.S. population. And reported on the $330 Billion Annual NET lost to U.S. Taxpayers from Legal immigration (Net Cost of Legal Immigration Study).
And please help BALANCE MOBILIZE ACTIVISTS and contact Media and Congress to intensify our push for the aforementioned all-categories included Zero-NET MORATORIUM TODAY, NOW! Contact your representatives!
TO MAXIMIZE BALANCE's CLOUT PLEASE DONATE NOW! by Credit Card on our website: BALANCE or by check to: Population-Environment Balance | P.O. Box 268 | San Francisco, CA 94104
Dollar for Dollar, Donations to BALANCE and its ASAP! Coalition Allies who push a Moratorium on the approximate 1.6 Million Legal Immigrants who settle in the U.S. each year (including the 400,000 settling each year in California), create much more Political Clout for reduction in both Legal and Illegal immigration numbers than Donations to Mass Immigration Management Groups, i.e., those who refuse to push for an all-categories-included Zero-Net Moratorium.
Indeed, such Refusal is counterproductive to genuine Immigration Reduction Efforts because these Main Management Groups advocate positions which legitimize and thus ensuring unending Mass Immigration. Merely arguing for some reduction (but refusing to push a Zero-Net Moratorium) therefore inherently sanctions the continuing Mass Legal (and therefore Illegal) Immigration flow and unending U.S. population growth.
The Campaign for the 2020 elections has already begun so it is imperative that we intensify our education and advocacy efforts.
And please support our Crowd-Funding effort at Mass Immigration Hurts Environment.
But Most Important, Contact & Re-Contact your
Representatives, the Candidates and the Media!
Thank you,

Population-Environment Balance
Population Environment Balance on BlogSpot
Population Environment Balance on Wordpress
Population Environment Balance
Follow BALANCE on Twitter @PEnvirons and GAB @PopEnvironmentBalance
Mailing address:

Population-Environment Balance | P.O. Box 268 | San Francisco, CA 94104
Washington, DC address:

Population-Environment Balance | 1629 K Street NW, Suite 300 | Washington DC, 20006
BALANCE is anti-Mass-Immigration, not anti-immigrant.
BALANCE is the leading National Organization publicizing information regarding the Threat of Mass Immigration-generated population growth to our Environment, Nation, Budgets, and Personal Safety and Mobilizing Activists to Reduce it.